$24.97 $49.99
Certification: CE/EU, UL.
🎁 LAUNCH

 SALE
: BUY 2 AND
ENJOY FREE WORLDWIDE SHIPPING!
Empire®'s water fountain uses a circular solar panel to power the water pump inside of it, and is a perfect addition to any water garden.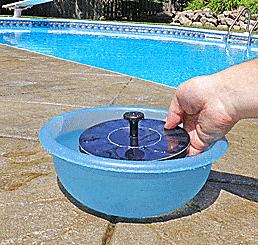 This solar birdbath pump is made up of highly efficient solar panel and new brush-less pump. Start-up fast, efficient and strong stability. In addition, it floats on the water and has no electric outlet or external battery.
Mosquitoes will not lay eggs in moving water. This classic solar fountain pumps is suitable for bird bath, fish tank, small pond, garden decoration, water circulation for oxygen, etc. 
Specification:
Solar panel: 7V/1.4W ,Diameter: 6.3 inches
Brushless pump input: DC 4.5-10V
Maximum quantity of flow: 40gallons/H
Maximum delivery height: 18", Regular:10~15"
Minimum water depth in fountain should be 1 3/4"
Spray combination: 8 kinds of spraying style
We use Encrypted SSL-Security to ensure that your Check-Out information is 100% protected.

Click PURCHASE To Order Yours Now! 

100% Satisfaction Guaranteed With Every Order.